The mobile payments space is experiencing unprecedented growth as consumers continue to seek better ways to shop, make payments and manage their money.  At the same time, it creates pressure on both retail and financial services sectors to enhance their product offerings in order to meet consumer demand.  Corporate strategies have evolved to be more centric to serving "Gen M" or Generation Mobile.  These consumers are shifting towards having an app-driven mindset forcing industry leaders to adopt more innovative practices to improve engagement and strengthen customer ties with payment strategies.
A new product leadership and business model are essential to drive success with your customers, but do you have the necessary information to fuel and measure your payments strategy?
While at Money2020 a few weeks ago, we pulled together the top insights and findings into a comprehensive report that provides six clear payment strategies that will offer guidance and challenge your thinking as you seek to find better ways to connect with, and meet needs of, today's digital customer.  The below infographic represents the areas of focus we identified. You can also download the full report, Enabling an Effective Enterprise Strategy for Payments  here.
Key Takeaways for Navigating the Payments Landscape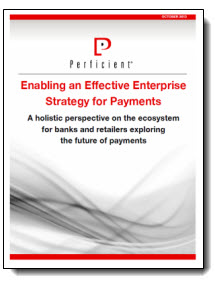 Our payments report was created to help you  you influence and set expectations for creating success metrics at the time a strategy is proposed to ensure delivery. Setting a successful strategy in payments involves inclusion of all participants in the payment chain: consumers, merchants, vendors, processors, internal product development, operations and information technology. This paper provides a holistic view on the ecosystem for businesses seeking to capitalize on the mobile opportunity with payments. It not only covers how retailers and financial institutions can coexist, but discusses unique value propositions for each industry to:
Effectively assess the real value of data and monetize payments
Initiate strategies for harnessing mobile capabilities
Increase market reach by building fintech partnerships
Inspire change in existing payment infrastructures
Accelerate development of digital payment offerings
Download Enabling an Effective Enterprise Strategy for Payments now.