Sentiment analysis is arguably one of the fastest growing concepts in the analytics space and is poised to become a major source of information to enterprise BI programs in the very near future. The idea of receiving instant feedback from a consumer base, enabling near real-time follow-up or correction holds an incalculable ROI. Unfortunately the social analytics space is complicated by ambiguous terms, overlapping capabilities and merging suppliers.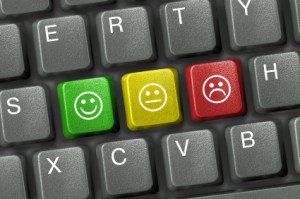 To better understand the landscape and potential impact to an analytics platform some general terms need to be defined. Social Sentiment Analysis, Social Analytics and Social Listening are assumed here to be synonymous; defined as – the ability to tap into the stream of social feedback for a given topic, identify global, regional or local sentiments and understand the context in which they were given. Additionally, collecting metadata about the statement for further analysis is assumed to be a default capability.
So how does one 'tap into' the social stream? Who are the companies providing this service and what are the impacts to a BI program? To answer these questions the following categories need to be defined:
– SaaS products with integrated social analytics capabilities
This is a group of companies that have a SaaS based product that has been enhanced with social analytic capabilities. SalesForce.com is a good example. In 2010 they acquired Radian6 to enhance their CRM product with 'social listening' capabilities.
– Social Analytic SaaS providers
This group of companies has built SaaS based products specifically for social analytics. They 'aggregate' social data to some degree and provide a web-based user interface with some form of dashboarding capability. Their service offerings typically do not include any form of data extraction beyond basic exporting and the user is locked in to using their proprietary dashboard platform. An example of this type of provider is Tquila, Sysomos, Spredfast, and SimplyMeasured.

A few companies fall into a subset of this group and can be thought of as 'Hadoop integration companies'. These platforms are built to natively run on a particular instance of Hadoop but generally provide the same type of service. An example of this subgroup is Datameer and Karmasphere.
– Social Data Aggregators
Lastly, this group focuses solely on building a standardized 'pipeline' of social data which is the primary service they sell. This group builds connections to the API's of Twitter, Facebook, and others; standardizes the data, aggregates the data, enriches it and finally provides a platform to filter it. No additional analysis is performed on the data and proprietary dashboard capabilities are typically not available.
Interestingly, these data aggregators also sell their data streams to a large number of the Social Analytic SaaS providers as they typically have exclusive reseller rights from the larger social platforms like Twitter and Facebook. An example of this type of provider is GNIP and Datasift.
Grouping companies in these categories does not diminish the value of another as they simply provide different services for different needs. As an example, significant insight can be gained by running a one-time analysis from almost any Social Analytics SaaS provider.
Below we see the results of analysis that was ran on Bose for the last week of June 2013:


Diagram: Brand and Competitor Sentiment
At a quick glance, we can see that sentiment is positive for all monitored brands. The fact that Bose shows a bigger sphere indicates there are more conversations about this brand than the others.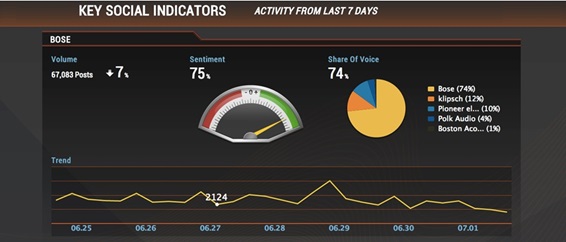 Diagram: Social Analytics
This dashboard shows a set of metrics, the most relevant being the share of voice between brands, which illustrates which brands are more present in social media conversations.
However, understanding that most clients wish to further integrate this type of social data with their core ERP/manufacturing/whatever data in order to glean further insights, we must eliminate the providers with no export capabilities and bypass those that require the use of proprietary analytic platforms. We must build our own Social Sentiment analysis platform and tap directly into the social pipeline.
We'll explore the implications of this in the next post…