Perficient is pleased to announce the arrival of our much anticipated "Emerging Payments Toolkit" just in time for Money2020 this week.  Get the payments tools, knowledge and strategies you need to engage customers with a leading mobile banking experience or make omni-channel retailing a reality for today's digital consumer. Register online to download this one-stop resource library and be entered to win an iPad Mini!
The mobile payments space is experiencing unprecedented growth as consumers continue to seek better ways to shop, make payments and manage their money.  At the same time, it creates pressure on both retail and financial services sectors to enhance their product offerings in order to meet consumer demand.  Corporate strategies have evolved to be more centric to serving "Generation Mobile".  With Generation Mobile, consumers are shifting toward an application-driven mindset heightened by technology which is forcing industry leaders to find new ways to engage the digital customer.
"Enabling an Effective Enterprise Strategy for Payments" White Paper
This paper provides a holistic view on the payments ecosystem for businesses seeking to capitalize on the mobile opportunity with payments. It not only covers how retailers and financial institutions can coexist, but discusses unique value propositions and 6 key business strategies for each industry to:
Effectively assess the real value of data and monetize payments
Initiate strategies for harnessing mobile capabilities
Increase market reach by building fintech partnerships
Inspire change in existing payment infrastructures
Accelerate development of digital payment offerings
Omni-channel Banking Checklist
Are you ready to take on a new approach to banking by implementing a unified strategy? Then our "Omni-channel Banking Checklist" is just what you need to prepare for the future model of banking. Our checklist covers five key areas for businesses to addresss as they look forward to thinking about evolving innovation strategies, connecting banking and payment experiences, and bundling banking products and services. Download Now >>
Bank Transformation Guide
This guide covers the top IT trends and best practices for today's financial services innovators. Armed with this information, your organization can be more strategic with business and technology decisions to position itself at the forefront of innovation. We've covered everything from mobile banking, payments, business intelligence and analytics, to enterprise content management and regulatory compliance. This guide is guaranteed to cover topics top-of-mind for banking technologists and executives! Download Now >>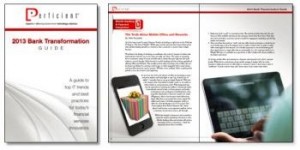 Download Perficient's exclusive Emerging Payments Toolkit now!