I peeked in my U.S. Mail mailbox this morning and found a nice ad from Walt Disney World in there with all my other mail. Normally that piece of mail would have been thrown out with all the other junk, but something caught my eye.  The item is a colorful, three-fold, heavier stock flyer with Goofy on the font cover and the tag line "Planning a vacation during the school year is as easy as 1-2-3". What interested me was that planning a vacation with kids in school is always a challenge.
So I opened the flyer and inside Disney suggested two weekends and one week during the school year that would be ideal times for me to visit DisneyWorld.  Wouldn't you know it, the week suggested by Disney coincided with my local school's Spring Break week.  That's some pretty good personalization!  (The other two suggested weekends were national holidays, so no personalization there.)
Since I deal with personalizing web content and marketing campaigns, I was a little intrigued with the idea that Disney personalized this hard copy mail.  Looking at the flyer, I found a link to a Disney web site that seemed to be tied in with this marketing campaign: disneyworld.com/schoolbreak.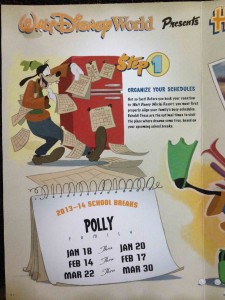 Awesome, I thought.  If I follow that link, I'll go to a special site for people looking for vacations during the school year.  I know that they won't know who I am, but I figured, they could get my IP address, find a close enough zipcode and then "know" when Spring Break would occur for me.  That would be a great way to link the mail campaign to the website and streamline my experience in booking a vacation.
Well disappointment set in quickly.  When I went to the schoolbreak page as suggested, I was redirected right to the standard Explore Resorts Hotel page.  No mention of a school break.  Not even a suggestion of one of the national holiday dates. Just the regular page where I can look for any Disney Hotel with a checkin date of tomorrow!  There is even a banner ad offering a discount to stay this fall – well before any school break in the United States.
So what looked like a promising mail/website marketing campaign turned into a disjointed, not good experience for me.   I guess I should have known better.  The mail campaign was off target because I don't have any school aged kids.  I think Disney might have guessed that had they tracked some demographic data from my past visits.  They could have used that info to offer me a visit at a time when all those school aged families weren't there.  I might have gone for that vacation.