Your weekly social media news in byte size pieces.
iOS7 is Stunning
The biggest news for me this week was the launch of iOS7. It's beautiful, addicting and has left my phone with lots to discover including  a major upgrade to the Facebook app. The new app is more intuitive for Apple users.  All of  the navigation has moved to the bottom of the screen, where you can easily switch between News Feed, Friend Requests,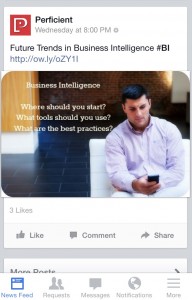 Messages and Notifications. People don't usually like changes on Facebook, but I haven't heard any complaints about this upgrade…yet.
Instagram is Snapping Up Users
Instagram reached 150 million active monthly users. Sounds like a lot, right? As a comparison, it's just 50 million users short of bypassing Twitter, who currently has 200 million active monthly users. Who knew that taking photos of your lunch could be such big business….
If You Liked That  Tweet, You're Going to Love This One
A new feature has been launched with select Twitter users called Related Tweets. Log onto Twitter and load up the URL of a tweet to see if you have the feature. If you do, you will see a box below your tweet that says Related Tweets. I don't have this feature yet. If you have it, let me know what you think. Are the related tweets useful?
YouTube Without the Internet
YouTube prepares for offline video viewing so that you can watch videos even when you are not connected to the internet. You will need to have the YouTube app, which will contain ads and you will have 48 hours to watch the videos you take offline. This feature will not be available for movies or TV shows that you rent or purchase. Is this a feature that you will find valuable?
Paying for Pins
Pinterest sent an email last night announcing that they will start promoted pins in an effort to monetize their business model. The promoted pins will be available to a select group of businesses and CEO Ben Silbermann promised that the pins will be tasteful, transparent and relevant. With Pinterest already being a great source of traffic and sales for online retailers, this could be a boon for business. What impact do you think this will have on the Pinterest experience?