As promised, today I am sharing the fundamentals of using the LOOP and VECTOR in a SPSS Syntax script.
LOOP
LOOP is a common programming concept – it simply allows you to apply or execute the same script commands for an identified number of times without having to recode them.
VECTOR
A VECTOR is (for those of us who have programming experience) how SPSS supports ARRAYS.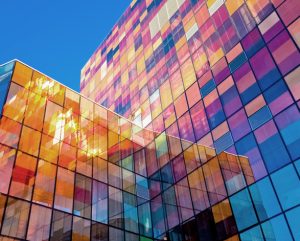 With some guidance, you can craft a data platform that is right for your organization's needs and gets the most return from your data capital.
A USEFUL EXAMPLE
In the following example we've taken a list of cases (case 1, 2 and 3) and their respective variable responses (V1 through V20) and applied some transformation logic to them.
The logic of the syntax script goes like this:
Define the variable list using the DATA LIST command (/V1 through V20).
Identify what variable response is considered to be a flag for a missing response (I'm using the value of 999).
Create a new variable ("MEANSUB") that is a calculation (the MEAN of all of the cases non-missing variable responses).
Create a working ARRAY (a VECTOR) with 20 elements in it.
Create the "looping logic" which will:

"read through" each variable response for the current case
If any variable response is missing, assign the new variable value (MEANSUB) to it
Done

The last steps in the script include the data (the cases) and then perform a LIST (to show the modified data)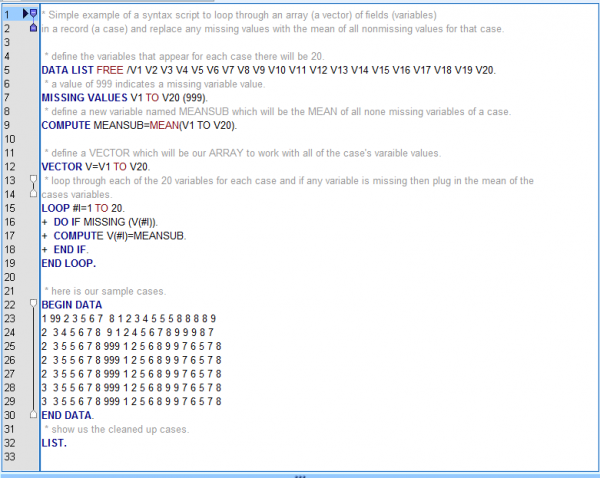 Below is the modified data displayed in the SPSS "Viewer" (notice there are now no 999 values):
SPSS Syntax. We could say it started as an exercise, became an addiction."