Exciting News!
Today, we announced the acquisition of TriTek Solutions, an enterprise content management and business process management consulting firm with significant IBM expertise, based in the northeastern United States.
Like Perficient, TriTek is an IBM Premier Business Partner. They're an excellent addition to our team,  bringing meaningful services expertise, important intellectual property assets and a proven track record of growth, profitability and client satisfaction.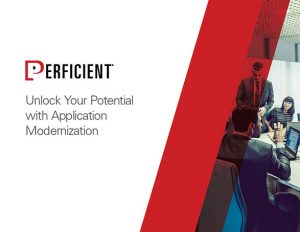 Application modernization is a growing area of focus for enterprises. If you're considering this path to cloud adoption, this guide explores considerations for the best approach – cloud native or legacy migration – and more.
This acquisition further expands our incredibly strong partnership with IBM and provides great value to customers. It comes at a time when information has become a powerful asset for organizations. Enterprises are challenged with capturing, analyzing, sharing and governing content, and there is a growing need from our clients for integrated ECM and BPM solutions. With the addition of TriTek, Perficient has gained more expertise to create more powerful enterprise content management solutions for our customers that enhance collaboration and drive productivity.
Perficient's solutions portfolio and technical capabilities have grown dramatically over the years, but the thing that has remained constant is our commitment to, and success with, 'Big Blue.'
From the very beginnings of Perficient 15 years ago, IBM has been core to our progress. Without that early focus on IBM technologies, and their supportive partnership, Perficient may have never gained the initial traction it needed at startup. And our steady work with IBM certainly helped carry the company through the economy's darkest days.
Even today, our work with IBM represents our largest share of revenues from a technology platform perspective.  The breadth and depth of our expertise across the entire IBM software portfolio is already unparalleled and now we add TriTek – the largest, independent FileNet consultancy in the U.S., and a five-time FileNet partner of the year.
You can learn more about Perficient's acquisition of TriTek Solutions, including how it will increase Perficient's market presence in the northeastern United States, adding offices in the key geographies and technology markets of New York City, Boston and Washington, D.C. metro area, and add client relationships with key Fortune 500 customers, including many of the leading financial services and insurance firms, in our news release here. I've also shared this news on our financial services blog here.
It's an exciting time at Perficient and we're thrilled to add TriTek to our team.