One of the hottest discussions, blogs, and topics discussed this week is LinkedIn's email congratulating its members for having one of the "Top 1%, 5%, 10%" most viewed profiles in 2012. I, also am one of the candidates who received the email with top 5% seen below:
My first impression doubted the email at face value asking is this real or not? Out of 200 million members, including individuals who are CEO's, Presidents, and Philanthropists of our society – how did I make it to the top 5% percent? I do have an "All-Star" profile strength and over 800+ connections – being in the top 5%in 2012 is still too good to be true.
When I started to calculate what 5% really meant, out of 200 Million members – 5 percent is 10 Million members. That means that I am 1 of the 10 MILLION people who received this congratulations email. This was more of a realistic figure and being One out of Ten Million is really not a big deal.
Researching more about the email and trying to find similar candidates, i went on several social media sites including LinkedIn, Twitter, and Facebook. Surprise, Surprise – I wasn't the only one with the 'Honor' of being the top viewed profiles of 2012.
After reading a few articles from known authors and editors, this was a Brilliant Marketing Campaign by LinkedIn. The email to members leads to a 'formal' letter from the Senior Vice President Deep Nishar, and an attractive sharing tool on the side that looks like this: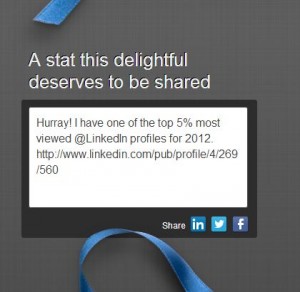 This one box was the masterpiece of this ingenious campaign. The strategy used by LinkedIn is brilliant to make the social network viral and reach more places than it did before.
Congratulations Email – Ego Booster
Read More Link – Formal Letter from Senior Vice President
InfoGraphic Link – Appealing stats across the globe
Sharing tool – LinkedIn goes Viral overnight!
This Marketing Campaign will definitely invite others who don't have a profile to get one and maybe turn Free Memberships to Premium Accounts! We will find out how successful the campaign is, if LinkedIn releases the results of their memberships/accounts at a later date.
Did you get a congratulations email too? What do you think is the real purpose of sending it?