Let's review some more of the features you can request for enablement via Salesforce Customer Support.
You "Open a Case" via the Salesforce Help & Training Portal, signoff on the conditions and/or consequences of the feature enablement, and voilà…you have a new feature enabled in your Salesforce org!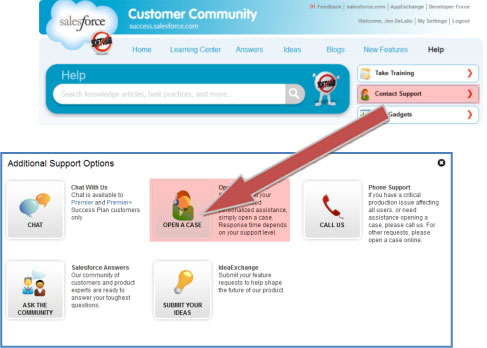 See the full list documented by Salesforce and the editions in which they are available[1].
Create Date, Last Modified Date field open for initial data import

Let's say you are migrating data from a previous CRM system into Salesforce.  Upon research, you will find that you cannot insert or update values in the Create Date or Last Modified Date fields in Salesforce.  Without the ability to map source data columns to these fields, these Salesforce date stamps will reflect the day/time you loaded the data, as opposed to when the data was originally created in your source system.  If you make the right "case" to Salesforce (no pun intended,) you will be able to map to these fields when you are setting up the mapping via the Data Loader.
Restricting Search on Fields with Field Level Security
A little known fact is that a hidden field configured via field level security is included the Salesforce search functionality.  For example, when a user performs a search with the term "paperless", if the Billing Type field is not visible to the user because of the configured field level security settings, any rows with Billing Type = "paperless" will return in the search.  Submit a feature enablement request to Salesforce in order to restrict this behavior.
Product Prices, increase the decimal places to 8 places
Products and Opportunity Products (a.k.a. Line Items) typically reflect two decimal places in the price fields: Standard Price, List Price, and Sales Price.

Some businesses require additional decimal places.  Salesforce allows you to request enablement of additional decimal places – you can specify up to 8 places to the right of the decimal point.
Remove Price and Quantity fields from Opportunity Product Page Layouts
Some businesses require use of Opportunity Products, but choose not to use the standard Price and/or Quantity fields.  When removing these fields from the page layout (standard or multi-line) you would see an error message noting that these cannot be removed.

However, upon submitting a feature request to Salesforce for the ability to remove these fields, you would be able to successfully remove them from the layout(s).
---
[1] Some items previously requiring request are now available as settings that can be changed without explicit request from Salesforce. Data Export Service, Single-Sign On and Sandboxes are a few examples.