IBM has released a new version of IBM Cognos Insight(V10.2), its personal analytics solution that empowers business users and analysts to explore, analyze, visualize and share insights from their own desktops without IT assistance. The brand new Personal Edition is designed for organizations that are concerned they cannot provide the analytic capabilities (or resources) that the line of business – finance, marketing, sales, operations – might be demanding and instead can offer users the opportunity to experiment with a personal analytics solution. The latest version includes new capabilities such as intelligent and automatic mapping of source data, enhanced chart interactivity and tree maps, which is a new visualization that enables the display of large volumes of data and the comparison of multiple items simultaneously.
IBM Cognos Insight allows business users to take full control of their personal and corporate data and become active participants in the analytics process. In just a few clicks of the mouse, business analysts, managers and executives can independently explore and merge personal and corporate data on their desktops, perform compelling what-if analyses and take insight to action.
Cognos Insight Overview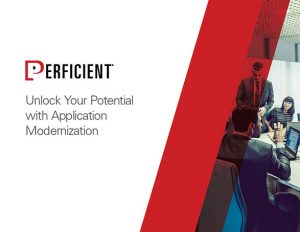 Application modernization is a growing area of focus for enterprises. If you're considering this path to cloud adoption, this guide explores considerations for the best approach – cloud native or legacy migration – and more.
If you're curious about this new release and want an opportunity to test drive it, Perficient's Business Analytics workshops are designed to help business analytics users do just that.  All attendees will be given a 30 day trail of IBM Cognos Insights™  and learn how to use it to personalize, explore, analyze, visualize and share insights without compromising IT values. Workshop attendees will learn how turn insights into action and solve problems or seize new opportunities quickly, all from the convenience of your desktop. Come try Cognos Insights at a workshop near you.

Workshop Dates & Locations
Atlanta, GA – Sept 27
Denver, CO – Oct 10
Dallas, TX – Oct 17
Houston, TX – Oct 18
Chicago, IL – Nov 8
Cincinnati, OH – Nov 14
Charlotte, NC – Nov 16
Seating is limited to these workshops so if you plan on attending register early!
REGISTER NOW