In this competitive business marketplace, organizations face increased pressure to forecast business conditions that allow employees to react and drive value from data.  How a company evaluates employee performance has a strong impact on behavior.  Even a company replete with intrinsically motivated employees can fail to be successful if management does not provide employees with guidance on how their efforts impact the bottom line.  Reliable and actionable data that represent a "single version of the truth" should be the foundation upon which a performance program is built and cascaded down throughout the organization. 
As common sense would dictate, companies should evaluate performance based on increases to firm value. To generate these cash flows, many companies focus on product development.  However, the firm's value can be more specifically defined as the present value of cash flows generated by customers.  This makes gaining and maintaining relationships with profitable customers the single most important factor in generating firm value.  This relationship between customers and firm value is the fuel behind the competition for customer loyalty within industries.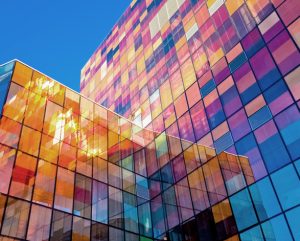 With some guidance, you can craft a data platform that is right for your organization's needs and gets the most return from your data capital.
Enterprise Performance Management (EPM), a Business Intelligence-enabled approach to the balanced scorecard, can create strategic advantage in a competitive business landscape.  Using EPM a company can compete for loyalty using strong analytics.  This is done through creating and managing a customer-centric electronic scorecard that is based upon a company's important relationship with its most profitable customers.  EPM is used to help create strategic goals through the discovery of key objectives and performance measures based on analytical tools such as predictive modeling, customer relationship management, dashboards, and automated scorecards.  EPM also helps companies manage performance goals by linking those goals to the individual employees responsible for outcomes.
EPM consists of four processes, shown below, that can be interlaced with the balanced scorecard approach that most organizations use to refine organizational focus and create value.  The two initial EPM steps, namely Strategize and Plan, closely parallel the strategy map creation process found in the balanced scorecard approach.  The last two steps, Monitor and Act & Adjust, can be used to create additional value beyond what is provided in the balanced scorecard methodology.  The four EPM processes together form a closed-loop business strategy system that connects strategy to execution. 
Over the coming weeks, we will drill down into the processes needed to build a customer-centric balanced scorecard that will build value for your organization through the use of Business Intelligence.